---
Modern day Rotterdam carries no resemblance from the old Rotterdam, a city that was reduced to rubble in May 1940 to push the fearful Netherlands into a premature surrender so that the German airforce would never repeat the same feat on its other thriving cities.
Rising from the ashes, Rotterdam 2.0 would eventually emerge with an ambitious focus towards experimental structures and defining its very own approach to urban living – whilst still conserving its outward tilt and an international presence and identity shaped by the rivers and seas.
With world class leading architects not burdened by the need to respect historical skylines and aesthetic merits on a 'blank canvas' as you would call it, this means that Rotterdam may well not be the city for every city breakers' taste. The cobblestoned and filmset-ready streets that are present in Europe's greats the likes of Amsterdam, Paris or Brussels are not to be found here and that's a crucial detail to know before you visit.
However, for the curious with an appreciation to post-war architecture and unconventional designed building blocks, who wishes to ride a bicycle under, over and through these outstanding masterpieces; or even to those who adore that sense of visiting a radical-thinking city not defined by tourists but rather by the people who call it home, then this is the place for you.
It's modern, sometimes quirky and absolutely (Rotter) damn awesome!
Here are some of my favourite things to do.
---
THINGS TO DO IN ROTTERDAM
Cube Houses for The Gram'
I'm not too sure what Piet Blom was smoking back in the 70's, but I sure am glad that his odd concept was given the green light by the local city council.
He was approached to connect two plots of land that are separated by the busy Blaak Road. Obviously he was faced with some challenges but his solution has grown into the most significant icon and has since attracted people to Rotterdam.
The Kubuswoningen, more commonly known as Cube Houses, are oddly enough a definition of quirky and out-of-world kind of creativity. I mean who would have thought of it – well, Blom' did.
Each house is tilted at a 45 degree angle, where only a quarter, roughly about 100 square meters of each cube's floor are space that can actually be used. Not too sure how full-time residents feel about this – must be a nightmare with such a small space.
However, what they lack in conventional living space, they make up for plenty of architectural curiosity and the creative ingenuity that are expressed by these designs. It still feels daring, even after 40 years.
Location: Overblaak 62, 3011 MH Rotterdam
Cost: The exterior of the house is free, whilst the Kidj-Kubus (Show Cube) is currently a museum that is also open to public from 11am to 5pm the entry is €3.
Best Time to Visit: Bear in mind that this is a very popular spot and that it can get very busy. If you want to snap photos and not have the crowd around, I'd recommend arriving there at 9am. A key note; the cubes are actually occupied with actual people living in them, so be mindful of their privacy when you snap photos.
Tip: Fancy staying in one of these houses yourself? Strayokay allows you to do just that.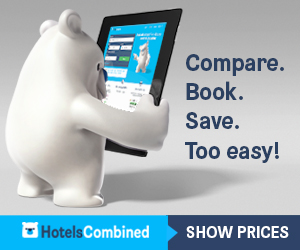 Get to Know The City's Art
While you can enjoy the city's finest work of art out in public spaces through their buildings, street art and dotted sculptures; including the infamous 'Dirty Santa' – the city is also known as the epicenter of creatives and artists in the Netherlands.
For city explorers, the 'Museumpark' is the best starting point to get a good feel of the culture. In addition to it being a public green space as well as a sculpture garden, there are more than a dozen of Rotterdam's main art and museum attractions that are located close by; namely the Netherlands Architecture Institute, the Museum Boijmans Van Beuningen and the Het Nieuwe Instituut. Sadly, I did not make it to any of these museums but if you did let me know how it went in the comment box below.
Other Art and Photography Must-Visits:
The Netherlands Photo Museum – Las Palmas, Wilhelminakade 332
Open: Tuesday to Sunday from 11am – 5pm
Entry Fee: €7 (18-25 years old) | €14 (26+ years)
Kunsthal – Museumpark Westzeedijk 341
Open: Tuesday to Sunday from 10am to 5pm
Entry Fee: €7 (18-25 years old) | €14 (26+ years)
Feast at Markthal
Once you're done snapping hundreds of photos at the Cube Houses, head across the road to one of Rotterdam's 2014 addition and the most notable landmark – one that will help keep your tummy full before you continue exploring the city – the horseshoe-shaped Markthal.
The market hall (or Markthal) is another unique architecture and is the first covered market hall in all of the Netherlands.
But why would they need a covered market hall? It is due to stricter regulations on selling produce like fish, meat and cheese out in the open air. And as usual, (I think this is cool) – the city of Rotterdam saw the limitations as an opportunity to innovate and create a building that steals the show yet again. It not only adhere to the regulations, but is a mindblowing mix of smart architecture and multi-use space.
Some Markthal Fun Facts:
Rotterdam's mix of 170+ nationalities are encapsulated in the vendors and restaurants housed in this market hall.
This 4,000 tile artwork displayed on the curved ceiling is also known as the 'Horn of Plenty', which apparently has led to some tougue-in-cheek references (I assume) to the market hall as 'Rotterdam's Sistine Chapel'
Interestingly, Markthal houses 228 apartments, many of which has square-sized windows within the ceiling that face into the hall!
Tip: If you want to snap photos of the Markthal (because, let's face it, you know you want to), I recommend you reach to this place early, at 11am, when most vendors are open but before people begin arriving.
As for eating, wait a little to get some atmosphere rolling. Maybe wait for busier lunch hour and consider to indulge in food at the dining area that are directly above the stalls. Some are specifically for customers of that particular eatery, however you'll still find other places that are for everyone.
Location: Verlengde Nieuswtraat
Open: Daily 10am to 8pm
Places to Eat in Rotterdam
As one of Europe's most multicultural cities and as an known as the region's city capital of cool, Rotterdam offers a wide selection of eateries that are affordable for city explorers. Aside from eating at the Markthal for breakfast or lunch, there are other options I recommend you check out.
Jack Bean: Just across the Centraal Station, you'll find Jack Bean. If you are all about eating a plant-based meal and you want to get around to do your eating quick – Jack Bean offers fast food burgers, wraps, noodles and salads that are not just cheap but are also delicious. They source their ingredients locally and they strive towards a waste free-kitchen. Leftovers go through composting and scraps are reused in their recipes. Happy people, happy planet.
Kampong Express: This cozy neighbourhood eatery serves authentic traditional Malaysian food in Rotterdam. You'll find they serve homemade iconic Malaysian dishes such as Nasi Lemak, Hainan Chicken Rice and Laksa. They even serve grilled lamb and chicken sate. Definitely a budget-friendly place to try.
Burgertrut: Just a few minutes walk from the Centraal Station, there's a Rotterdam institution that serves up all types of burgers suitable for vegans, vegetarians and meat-eaters alike. However, keep in mind that this place is closed on Mondays. Where? It's on Gouvernestraat 2B.
Chill Out and Eat at Witte
Given that my trip to this vibrant city only lasted for one day and not very much time, Witte de Withstraat is definitely one place I wish I had time to explore. Its a central artery, lined up with restaurants and bars along the streets.
What I found from vigorously Googling, was that Witte was once considered the embodiment of cool, at least according to the locals. Although today, that coolness may have been lost to their neighbours in the North, it is still your best bet to have a lovely afternoon or an evening drink (or two).
---
I hope that this article has inspired you to visit Rotterdam with this itinerary. If you have any questions about this trip or have your own travel tips, please share them in the comment below.
---
Next Read: 10 Things You Should Know Before Visiting Abu Dhabi
---